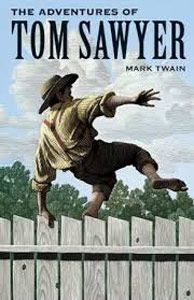 Mary gave him a bowl of water and a piece of soap, and he went outside the door and put the bowl on a little bench there. Then he dipped the soap in the water and put it down, turned up his sleeves, poured out the water on the ground, gently, and then entered the kitchen and began to wipe his face carefully on the towel behind the door. But Mary took the towel and said:
"Now aren't you ashamed, Tom. You mustn't be so bad. Water won't hurt you."
Tom was a bit annoyed. The bowl was refilled, and this time he stood over it a little while, collecting his strength, took a deep breath and began. When he went back in the kitchen, with both eyes shut and feeling for the towel with his hands, soap and water was dripping from his face. But when he emerged from the towel, he was not yet satisfactory. The clean part of his face stopped at his chin and his jaws, like a mask. Below and beyond this line there was a dark area of dirt and mud that went down his neck at the front and the back.
Mary took him by the hand and when she had finished with him he was completely clean and his wet hair was neatly brushed, its short curls arranged in a pretty, symmetrical way.
Tom smoothed out the curls, with difficulty, and pushed his hair close to his head. He didn't like curls and thought them effeminate. Curls made him unhappy.
Then Mary got out a suit for him that had been used only on Sundays for two years. They were simply called his "other clothes". By this, you can guess the size of Tom's wardrobe.
The girl "put him to rights" after he had dressed himself. She buttoned his huge collar around his chin and turned it down over his shoulders, brushed him down and crowned him with his straw hat. He now looked very much
better and rather uncomfortable.
He was, in fact, as uncomfortable as he looked. There was nothing he liked about the restrictions of cleanliness and smart clothes.
He hoped that Mary would forget his shoes, but she didn't. She cleaned them and gave them to him. He lost his temper and said he was always being made to do everything he didn't want to do. But Mary said, persuasively:
"Please, Tom, that's a good boy."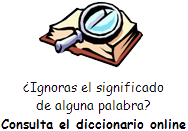 So he got into the shoes as he complained. Mary was soon ready, and the three children set off for Sunday school, a place that Tom hated with his whole heart, but Sid and Mary were fond of it.
...
to be continued!
* The text has been adapted from the Adventures of Tom Sawyer
by Mark Twain



Download the original book for free

*Consulta un PDF con la información y resumen de 100 libros en inglés
que puedes descargar en 1 único archivo.