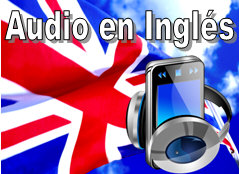 - En esta sección de AUDIOS EN INGLÉS se encuentran recopilados y agrupados los
Ejercicios de Listening de NIVEL AVANZADO
publicados en nuestros Cuadernos de Inglés para que tengas un acceso más organizado y sencillo a los mismos.
El material publicado SE INCREMENTA PERIÓDICAMENTE agregando los nuevos ejercicios que van incorporándose a cada cuaderno.

1 -

Escucha el audio
2 - Realiza el Ejercicio y

escucha nuevamente el audio.
3 -

Comprueba tus respuestas
4 -

Lee la Trascripción completa y

escucha nuevamente el audio

Cómo mejorar el listening y la comprensión en inglés
-

Cómo mejorar la pronunciación en inglés

C

ada Sección de Ejercicios consta de VARIAS PÁGINAS para cada apartado.
Al final de cada página encontrarás la opción para acceder a la siguiente o trasladarte a cualquier página de la actividad que estés realizando.
*Si deseas disponer del nuevo material en menor tiempo suscríbete a nuestro Cuaderno de inglés.
*Si tuvieses cualquier problema en la audición consulta las Preguntas más frecuentes.
Listen and write the questions you hear.

1) How old was the speaker when he went to work in Jerry's office?

2) What was Jerry's relationship to the speaker?

3) The speaker didn't want to work in the office. What did he want to do instead?

4) Was the speaker good at maths?

5) Which of the following did the speaker NOT do during his time in the office?

a) make tea
b) hear about accountancy from Jerry
c) file papers
d) make phone calls
e) tidy the office

Listen and write the questions you hear.

1) Which of the following did not used to be a part of the speaker's weekend?
a) driving
b) drinking
c) girls
d) drugs
2) Did the speaker often meet girls?

3) What does 'to pluck up the courage' mean?
a) to be extremely drunk
b) to be shy and frightened of something
c) to be brave enough to do something
4) What did the speaker do after dancing with Emma?

5) How long did their relationship last?


Listen and write the questions you hear.

1) Which kind of insurance did the speaker work in?

2) How did he travel to work?

3) Which two people helped him get the job?

4) What three things did he need to buy?

5) What did the company directors have to remind the employees of their superiority?


Listen and write the questions you hear.

1) The campsite was a lot more expensive than they thought it would be.
2) Innes and the speaker argued about food.
3) Unfortunately, nothing was happening in the bar that night.
4) In the campsite bar, beer was available in very large glasses.
5) They had a very good level of French.
*También te puede interesar:
© Copyright La Mansión del Inglés C.B. - Todos los derechos reservados.
La Mansión del Inglés ®. Marca Registrada