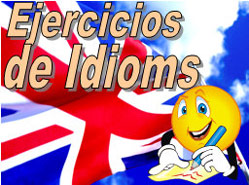 - En esta sección de EJERCICIOS DE IDIOMS EN INGLÉS se encuentran recopilados y agrupados los
ejercicios de Idioms
publicados en nuestros Cuadernos de Inglés para que tengas un acceso más organizado y sencillo a los mismos.
(Los "Idioms" / "Proverbs" son frases hechas cuyo significado generalmente se deduce de la idea que se transmite y no del sentido literal de la expresión. Equivalen a los refranes y modismos que utilizamos en español.)
Dado que mensualmente se distribuyen nuevos cuadernos, el material irá progresivamente incrementándose con con los nuevos ejercicios que vayan incorporándose.

1 - Elige la respuesta correcta
2 - Comprueba tus respuestas
*Si deseas disponer del nuevo material en menor tiempo suscríbete a nuestro Cuaderno de inglés.
Choose the correct phrase to complete the idioms.

1. One man's meat
2. One rotten apple
3. Penny wise,
4. Speak of the Devil
5. The grass is always greener
6. The proof of the pudding


One rotten apple...

1. The road to hell is paved
2. There's no smoke
3. There's no substitute
4. There are plenty more
5. Time and tide
6. There's more than one way

1. There's no accounting
2. There wasn't a sound
3. The pen is mightier
4. Only the good
5. Set a thief to
6. Rome wasn't built


There's no accounting...

1. Put your foot
2. Once a thief,
3. Never say
4. (To) leave no
5. Put your cards
6. Let bygones


Put your foot...

- Tienes Ejercicios para practicar los Phrasal Verbs en nuestra web
- Dispones de más ejercicios gratuitos de inglés en la sección de EJERCICIOS y en la sección de PRÁCTICA de La Mansión del Inglés.
- De forma continua publicamos en nuestro canal de Facebook ejercicios para practicar y mejorar tu inglés.
- Accede a nuestros Cuadernos de Inglés gratis o bien suscríbete para recibirlos gratuitamente en tu email.
*También te puede interesar:
© Copyright La Mansión del Inglés C.B. - Todos los derechos reservados.
La Mansión del Inglés ®. Marca Registrada