Grammar: English clauses

All clauses in English have at least two parts: a noun phrase and a verb phrase:

THE GIRL – Noun phrase (subject) SMILED – Verb phrase
ALL OF MY FRIENDS – Noun phrase (subject) WERE WATCHING – Verb phrase

But most clauses have more than two parts:

THE GIRL - SMILED
CRAIG - WANTED - A CUP OF TEA
REZA - HAS EATEN - TOO MANY POTATOES
THIS CAKE - TASTES - AWESOME!
CRAIG - IS - THE BEST TEACHER - IN VALENCIA
HE - PUT - THE BEER - IN THE FRIDGE
The first noun phrase is the subject of the sentence:

The girl smiled
Craig wanted a cup of tea
He put the beer in the fridge.
There are exceptions to the SUBJECT – VERB – OBJECT order:

"Poor though I am, I'm very happy."
Clauses in English always have a subject:
"Pepito has got a new job." – Xis a graphic designerX – "HE is a graphic designer."
"I am (I'm) a teacher." – Soy profesor.
He's waiting for his girlfriend. XIs lateX – SHE is late.
The imperative is an exception (which is used to give orders). There is no subject:

Listen!
Come here!

If we have no other subject we use "there" or "it" as subject:
There were loads of people at the party.
There won't be much traffic at 6am.
It's just gone half past eleven.
It's a beautiful day.
It really bothers me!
Son las dos y media – It's half past two.



Pronunciation:

good / wood or would (and could)
Adam's apple = la nuez (de Adán)

Vocabulary: The car

windscreen (UK) / windshield (US) – windscreen wipers – limpiaparabrisas
brake – freno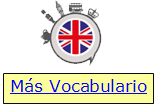 handbrake – freno de mano
steering wheel – volante
clutch – embrague (to put your foot on the clutch / to take your foot off the clutch)
accelerator – acelerador (hit the gas – US)
petrol (UK) gas (US) – gasolina
bonnet / hood (US) – boot / trunk (US)
seatbelt – cinturón de seguridad – to fasten/put on your seatbelt
tyre – rueda – puncture (pinchazo, ponchadura (MEX) – to get a punture
jack – gato – to jack up the car
headlights – faros
hooter (UK) / horn (US) – claxon – to hoot someone – he hooted me. – he blew his horn.
to indicate – to put on your indicators (intermitentes)

*Dispones de más PODCAST en inglés publicados en los cuadernos anteriores
a los que puedes acceder directamente así como al índice de su contenido.