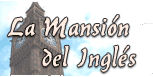 · NOTICIAS Y NOVEDADES DE NUESTRA WEB (http://www.mansioningles.com)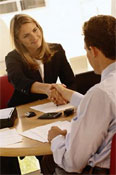 - Te recordamos que puedes acceder a todos nuestros cuadernos de meses anteriores a través de http://www.cuadernodeingles.com
- ¿Quieres conocer el inglés necesario para defenderte en entrevistas de trabajo, atención telefónica, redacción de e-mails y cartas comerciales en inglés, etc.? Con nuestro Curso de Inglés Comercial y de Negocios aprenderás todo lo necesario para desenvolverte en inglés en tu profesión o para superar las pruebas de selección de personal para acceder a un puesto de trabajo.
Es un curso moderno que presta especial atención a las nuevas tecnologías aplicadas al mundo empresarial (Internet, Comercio electrónico, presentaciones por ordenador, etc.). Puedes acceder a una lección completa de evaluación (lección 1) de las 15 lecciones que consta el curso + 1 test final.
Y relacionado con el mundo del empleo, también en nuestro curso intermedio puedes encontrar temas específicos sobre la empresa y ejercicios sobre como abordar una entrevista laboral o redactar un curriculum en inglés.

· PRACTICA INGLÉS EN TU NIVEL. Nuevos ejercicios cada mes. IN THE KITCHEN
Si necesitas aprender o reforzar tu inglés, recuerda que en MANSIONINGLES dispones de un completo Curso de Inglés Multimedia Gratuito con varios niveles. ¿Quieres conocer cual es tu nivel actual? Realiza nuestra prueba de nivel y saldrás de dudas en solo unos minutos.


¿Qué son éstas frutas y verduras?. Elige la palabra correcta para cada imagen.
(Si estás empezando a aprender inglés nuestro Pack de ahorro Básico puede ayudarte. Lleva un regalo incorporado y no tiene gastos de envío.)

a) An apple
b) A banana
c) An orange
a) A carrot
b) A lettuce
c) An onion
a) pears
b) plums
c) melons
a) An onion
b) A mushroom
c) A cabbage
a) A plum
b) A cherry
c) A strawberry
a) carrots
b) plums
c) pineapples


Which of the following answers is not suitable.
(Si quieres mejorar en tu inglés nuestro Pack de ahorro Avanzado puede ayudarte. Lleva un regalo incorporado y no tiene gastos de envío.)

1. How would you like your steak sir?
a) Medium rare, please.
b) Well done, please.
c) On the plate, please.
2. I don't really fancy a heavy sit-down meal.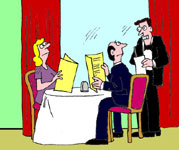 a) Shall we get a throw-away, then?
b) Okay, so why don't we get a take-away?
c) In that case, I think we should grab a quick Chinese.
3. I'm sorry, I can't eat this ham sandwich. I'm a vegetarian.
a) Really? Are you against killing animals?
b) No problem. I can make a quick salad.
c) Don't worry, I've cut very thin slices of ham.
4. What does the chicken come with?
a) Feathers and a bow-tie.
b) Roast potatoes and a selection of grilled vegetables.
c) Fried rice and sweet and sour sauce.
5. Do you mind if I pay by credit card?
a) No, not at all.
b) Yes, I do sir. How much would you like to leave as a tip?
c) No sir, that'll be fine.
6. Would you like some more meat?
a) Yes please, that was really lovely.
b) No thanks, I've just been stuffed.
c) No thanks, I'm completely full.


Choose the best word for each sentence.
(Si quieres mejorar en tu inglés nuestro Pack de ahorro Avanzado puede ayudarte. Lleva un regalo incorporado y no tiene gastos de envío.)

1. Pepe loves chocolate cake, ice cream and biscuits. He's got a very sweet……
a) taste
b) tooth
c) appetite
d) palate
2. When fruit isn't ready to eat yet we say it isn't……
a) mature
b) developed
c) seasoned
d) ripe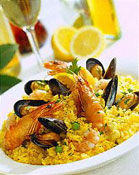 3. The paella was so delicious I had a second……
a) plate
b) helping
c) dish
d) go
4. I can't stand food like sushi and steak tartar. I like my food cooked not……
a) crude
b) rude
c) raw
d) natural
5. Have you got any fresh bread? This loaf is a bit……
a) off
b) sour
c) tough
d) stale
6. I don't like my eggs boiled, I prefer them
a) squeezed
b) melted
c) scrambled
d) shredded

PODCAST.
El podcasting consiste en archivos de sonido (usualmente en formato mp3) que pueden descargarse de Internet para escucharlos en el momento que se quiera, generalmente en un reproductor portátil.
Puedes reproducir directamente o descargar el podcast de este mes desde este enlace. (Botón derecho del ratón sobre el enlace y "Guardar" para salvar el fichero de sonido a tu PC).

Puedes consultar la trascripción al podcast del mes anterior.
El podcast de este mes se trata de una receta famosa de galletas con trozos de chocolate (chocolate chip cookies). A continuación esta publicada la receta para que podáis hacer las galletas en casa. Vale la pena – ¡están buenísimas!

Read the following recipe for chocolate chip cookies and choose the best word for each gap.

UNBELIEVABLY GOOD CHOCOLATE CHIP COOKIES

INGREDIENTS (makes 12–14 cookies, depending on size)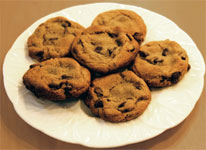 100g melted butter
1 cup brown sugar
1 egg
150g good quality (Lindt, Valrhona or similar – 70% cocoa) chocolate chips
3/4 cup chopped walnuts
1 cup flour
1 ½ cups oat flakes
½ teaspoon baking powder
½ teaspoon soda
1 teaspoon vanilla essence

Help:
chopped walnuts = nueces troceadas
oat flakes = copos de avena
baking powder = levadura en polvo
soda = papelitos de gaseosa
PREPARATION

Preheat the oven to 180º
(1) together the flour, soda and baking powder in a bowl.
In a different bowl, (2) the egg and add the sugar. (3) together until white.
(4) the melted butter, the flour, the chocolate chips (big pieces of chocolate are better!), the chopped walnuts, the vanilla and the oat flakes.
Mix together well and make balls approximately the size of a soup (5) .
Place on baking paper or a (6) baking tray. Leave some space between the cookies because they will (7) and expand during baking.
Bake for no more than 10 minutes (depending on the oven).
Do not (8) the cookies. They should be soft not hard.
*(puedes encontrar listenings para practicar en varios niveles en nuestra web)

· APRENDE UN POCO MÁS.
Some Cooking Verbs

Match the verbs on the left with the phrases on the right.

1. the chocolate in a bowl over boiling water
2. all the ingredients together
3. the vegetables into small pieces
4. the potatoes and boil in hot water
5. the ham as thinly as possible
6. a lemon over the fish
7. the eggs until light and fluffy
8. the cheese over the top of the lasagne
9. the red wine into the saucepan
10.the mixture with a wooden spoon
*(Consulta nuestra completa gramática inglesa práctica para ampliar tus conceptos del lenguaje).

· LLÉVANOS CONTIGO
- En Nuestra web encontrarás como siempre nuestro Curso de Inglés Multimedia Gratuito con varios niveles para que puedas avanzar a tu ritmo así como otras secciones que te ayudarán a mantener y mejorar tu inglés. También te ofrecemos otras posibilidades para que tengas siempre contigo todo lo que necesites.


· EXCLUSIVO EN NUESTRO CUADERNO. Cada mes nuevo material.
Descarga el libro El prisionero de Zenda en inglés y con su versión en español para que puedas leerlo con comodidad o practicar tu traducción en ambos sentidos. En formato PDF que podrás también imprimir para leer cómodamente.
The Prisoner of Zenda is an adventure novel by Anthony Hope, published in 1894. The king of the fictional country of Ruritania is abducted on the eve of his coronation, and the protagonist, an English gentleman on holiday who fortuitously resembles the monarch, is persuaded to act as his political decoy in an attempt to save the situation. The villainous Rupert of Hentzau gave his name to the sequel published in 1898, which is included in some editions of this novel.
© La Mansión del Inglés C.B. http://www.mansioningles.com
SUSCRIPCIÓN
· ALTAS --> Para suscribir una nueva dirección a nuestro Cuaderno mensual de Inglés (ALTA) acceda directamente al formulario de suscripción
· BAJAS --> Para cancelar su suscripción (BAJA) remita un e-mail en blanco desde la misma cuenta de correo que desea dar de baja a: cuaderno-baja@cuaderno.mansioningles.es
· CAMBIOS - > Para cambiar la dirección donde recibe nuestros cuadernos proceda a dar de Baja su cuenta anterior y de Alta la nueva.
· CUADERNOS ANTERIORES - > Para consultar los cuadernos de meses anteriores acceda a: http://www.cuadernodeingles.com
· CONTACTAR --> El sistema de correo que envía el Cuaderno no está habilitado para tratar respuestas. Si vd. quiere contactar con nosotros o hacernos llegar alguna sugerencia hágalo a través del formulario de contacto ( NO responda a la dirección remitente del Cuaderno ).
Gracias por su atención y deferencia.