Gramática: Present Perfect
"What have you done today so far?" – Craig's had three or four cups of coffee.
"I've had breakfast"
"How long have you been working on this video?" (present perfect continuous)
You haven't finished yet. He has been working on his video for two weeks.
Have you ever been to Disneyland? – No, I haven't.
Have you been to America? – I have. I've been in the state of Maine.
Where have you been to in Spain? – I've been to Sevilla. I've been to Bilbao.
Craig has seen people carrying lots of things on a bicycle in India.
To regret (arrepentirse) – Craig doesn't want to talk about things he regrets on the podcast!
Oneupmanship:
Have you ever been to China? No, I haven't. – I HAVE!
Have you ever tried my mum's scones? Yes, I have!
Have you ever ridden a camel? – I HAVE!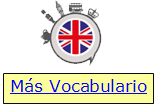 to go over = repasar
Estudia más sobre el present perfect www.mansioningles.com

Pronunciación: /s/ /je/
/s/ - Slippers, Spain, Spanish, special, stop, spelling, stomach, (stomache ache = dolor de estómago)
/je/ – Like the French sound 'Je' – pleasure, television, leisure, measure (medir), treasure (tesoro)

Phrasal verb: get off
GET OFF (bajar) – to get off the bus. I got off the bus. Get on or off a motorbike, train, camel, horse, bicycle etc. – Reza's bus broke down (estropearse, averiarse) and he had to get off the bus.
To GET OFF WITH something – (escaparse sin castigo) – The corrupt politicians get off without punishment.
TO GET WITH someone (ligar) – Reza did not get off with the girl in the cafe. She told him to get lost! :-(


(to be off = I'm off/I must be off = tengo que marcharme / to be off = caducado "This milk's off" / to go off = "That fish'll go off if you
don't put it in the fridge." (estropearse)
Reza's Top tip: Think of question words before conversation.
Where…? Why…? When…? How…? Who…? etc
Where do you work? – Where is your office? – What do you do in a typical day? – Who do you work with? – How many people work in your office?